5 Questions with Wizard Wars
Posted by Jonathan Bayme on 04 February 2014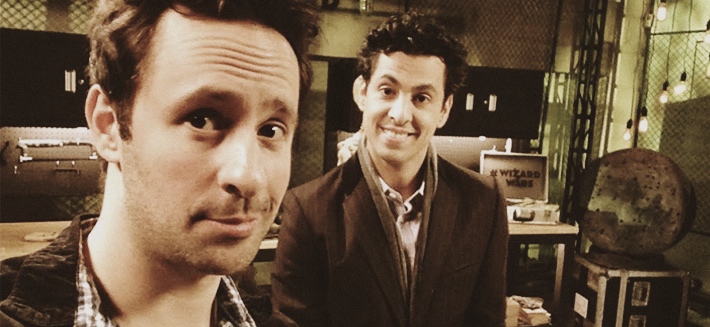 Next month, a new television show premieres on the SyFy network called Wizard Wars. And no, Harry Potter isn't a part of it. Even better: Penn & Teller, Christen Gerhart, Blake Vogt, Bizzaro, and Rick Lax ARE. In this short Q&A, we asked show creator Rick Lax for the inside scoop on what to expect:
What is Wizard Wars, and how is this different from other TV magic shows in the past? Wizard Wars is a magic reality competition show. Magicians are challenged to create new routines with random objects in a short period of time... and then perform them. They're judged by Penn & Teller, Christen Gerhart, and Latimer. It's different from other shows in that it focuses on the creation of magic, not just the performance.
I know you don't want to spoil any secrets, but who are some of the magicians on the show, and how did you and the network select those performers? If you're part of the theory11 community, you're going to recognize a few magicians here... like Blake Vogt, Marcus Eddie, and Christen Gerhart. Also featured are Justin Flom, Shimshi, Angela Funovitz, Gregory Wilson, Chris Funk and Landon Swank. The network cast the show. We had a long casting process... some of it was in person and some of it was over Skype. There were Skype interviews where the producers had the potential magicians go around their houses, pick up random objects, and perform on the spot with them.
Penn and Teller are on the show, too. What is their role, and how did they become a part of the project? Teller just loved the WW concept. Early on. We randomly ran into each other on Fremont Street and had a great chat about it. And they're the perfect judges for this show because they have decades of experience creating and performing original magic routines.
How did all of this begin? How did this go from an idea, to a YouTube video, to a real TV special, in such a short amount of time? Let's start with Bizzaro. I can bring that guy ANYTHING and he can turn it into an amazing trick in five minutes. So I'll get together with him and Flom, and we'll just pass some random object around until one of us thinks up a good idea for a trick. And then we'll spend a couple days developing it, and a lot of the time, nothing comes of it. But sometimes we walk away with a kick-ass trick. And I just got to thinking... sometimes the actual creation process is as cool as the final performance. So I wanted to do a show that highlighted that. And then we got together with Jimmy Fingers and Kyle Marlett and filmed a little pilot in my apartment. It blew up. Lots of blogs picked it up, and before long people were contacting me, wanting to turn it into a real show.
When and where does the first episode air? The Wizard Wars special airs on March 4th at 10pm on Syfy. Don't miss it!