Bicycle Titanium Edition - Now Available
Posted by Jonathan Bayme on 01 April 2011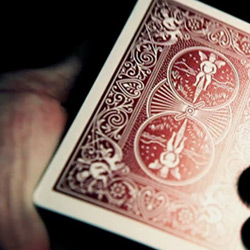 Tonight we are very excited to release something we've been working on for quite some time. A timeless, classic design - masterfully updated. We are now proud to offer the first ever METALLIC deck of Bicycle® playing cards.
Your favorite cards, fully optimized and transformed into something you have never seen before. Bicycle® playing cards have been the industry standard for over a century. They have been and will continue to be the choice for card enthusiasts around the world.
Available in two colors - Steel Blue and Crimson Red - the Bicycle Titanium Edition playing cards were printed using the finest quality stock and finish. For all information on the new Bicycle Titanium Edition, and to check out the brand new trailer, click HERE.