Black Friday: 25% Off - 12 Hours Only
Posted by Jonathan Bayme on 25 November 2011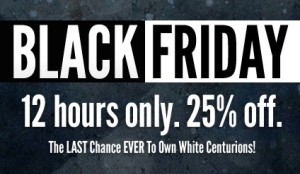 For the next 12 hours only, all products at theory11 are 25% off. EVERYTHING.
We want to celebrate Black Friday in a very special way. We're giving you the unique opportunity to treat yourself to products like Monarch Playing Cards or Rick Lax's HighRise with the discount of the year! This offer is valid for TODAY only - be a part of it and act now!
Free decks with your order!
Along with the discount, we're also handing out some of the most coveted playing cards: JAQK Cellars and Brown Wynn's. Here's how it works:
With each shipped order over $50, get a deck of brown Wynn's FREE.
With each shipped order over $100, get a deck of JAQK Cellars FREE.
The decks will automagically be added to your shopping cart before you checkout. If they aren't visible in your shopping cart, then it means they're all gone! To get your 25% off, use the special coupon code BLACKFRIDAY at checkout.
Find all the details HERE.