Cannibal Cards by Mike Hankins
Posted by Jonathan Bayme on 24 September 2010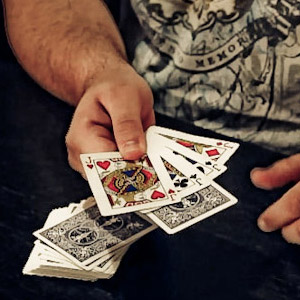 A classic plot in magic is the Cannibal Cards. Originally developed by Lin Searles in the 1950's, the effect has been a favorite among many of magic's most respected creators. Tonight, we unveil a new spin on it by Mike Hankins.
Eugene Burger called it "wonderfully surprising with a perfect final line." Deceptive, fun, and contemporary, this rendition of Cannibal Cards is streamlined and diabolical in presentation.
Four cards are violently devoured by the deck without mercy. Capped off a twist, surprise ending that will leave you speechless.
Special thanks to Bill Malone for his blessing and permission to include the first phase of this routine. Learn it now in 20 minutes of studio instruction.