Five Spectacular Releases
Posted by Jonathan Bayme on 24 December 2011
Happy holidays from theory11!
It's been an incredible year and we'd like to present our final release event of 2011. We'd like to present FIVE spectacular products: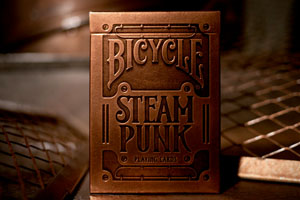 Bicycle Steampunk - An industrial collaboration between Bicycle® and theory11. Ripped from the pages of science fiction, the gears are turning, the steam is pumping, and the playing cards were finally born.
charity: water - You can make a difference. You can save a life. You can change the world. 100% of proceeds derived from sale of this deck will go directly to charity: water.
The Whole Thing - by Chris Mayhew. From card productions to color changes, everything is exposed where the spectator not only sees the outcome of magic – but the magic itself.
Pure - Ekaterina's debut cardistry project. Pure contains everything from two-handed cuts and shuffles to elaborate fans and table work. 15 powerful, elegant, unique flourishes taught in 90 minutes of instruction.
Dead Cut - with Jason England. A comprehensive course on using crimped cards. A staple move in the fundamentals of card magic – now taught in intricate detail by Jason in a 48 minute downloadable video.