Four New theory11 Artists!
Posted by Jonathan Bayme on 09 March 2012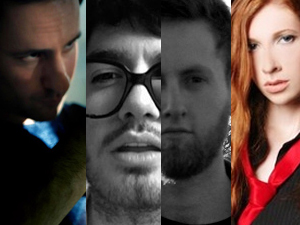 We're proud and excited to announce FOUR new theory11 artists! Some are familiar faces to theory11 and some have their debut projects in the works as we speak:
Rick Lax arrived on the scene with Vertigo, and he hasn't looked back since. With HighRise and Detach, he's proved to be a creative mind of the highest caliber.
Dimitri Arleri - let us introduce someone who needs no introduction. Dimitri took the cardistry scene by storm with his flourish video Opera. We'll be showcasing his revolutionary style later this year in his debut cardistry DVD.
Spencer Clark recently entered the limelight with his breakthrough cardistry performance video Odd Man Out. Spencer has a fresh, new style and out of the box thinking that you'll get to see in his premiere project this year!
Ekaterina - a flourisher from Russia, Ekaterina released her first DVD PURE late this past year. Her repertoire includes everything from cuts and fans to table work. She's a refreshing (beautiful!) face in the industry and we can't wait to continue our work with her. Please join us in welcoming all four artists onboard!