Holiday Contest Extravaganza
Posted by Jonathan Bayme on 11 November 2011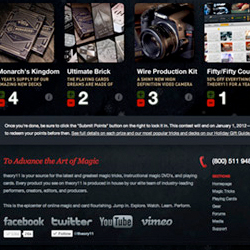 Our annual holiday contest is finally here! We're extremely excited for this year's prizes and we're sure you will be too!
What are the prizes?
Our prizes this year are INSANE. We have FIVE prize packages— and something for people of all interests to win. From HD video cameras for The Wire to a trip to Las Vegas—the stakes are high, and the prizes are unparalleled!
How does it work?
Very simple! With each item you purchase on theory11, you earn one point per item. After completing your purchase, you divvy up those points towards your choice of five prizes. Each point is one chance to win.
Where do I go from here?
Every product you purchase on theory11 until January 1st gives you ONE point. After you complete your purchase, you can redeem those points for one chance at winning any of our five insane prizes. Check out all the details and enter for FREE right now (instantly) on our Holiday Contest page!