Holiday Contest - Coming Soon
Posted by Jonathan Bayme on 26 November 2010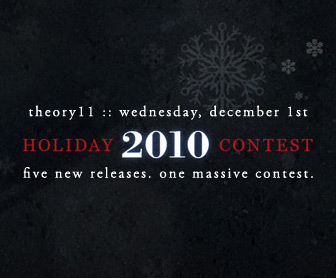 Our team has been hard at work finishing FIVE new releases just in time for the holiday season. We've also prepared a MASSIVE holiday contest. Whatever you think it is - it's better than that.

We've never done a holiday contest quite like this. It makes last year's contest look tiny. Yes, it's THAT good - and we're super excited to unleash it.
So here's the scoop: check theory11 this Wednesday, December 1st at 11:00pm EST. It all begins then. It all starts at the 11th hour.
Everything will be revealed - with FIVE new releases from five unique artists. Until Wednesday, we'll let your mind wander and marinate in the mystery...