JAQK Playing Cards - Limited Edition
Posted by Jonathan Bayme on 03 June 2011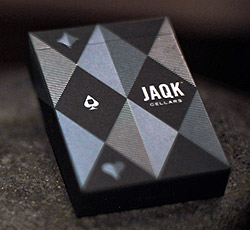 They're the coolest decks you've never seen. Sleek, high-end, and elegant beyond belief, they are a true masterpiece.
Based on original artwork created by an award winning winery in Napa Valley, they feature imported, French paper and embossed, metallic accents.
The first edition printing in 2008 sold for $9.00 per deck, and quickly skyrocketed to $35 (per deck!) on eBay.
This new edition was printed using theory11 quality card stock, resulting in a feel and finish that can only be described as "amazing." Feel them, see them. You'll be in love.