Jason England Article - Q+A
Posted by Jonathan Bayme on 11 January 2011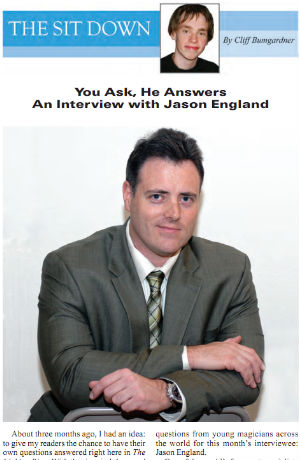 This month in the Linking Ring Magazine there was a brilliant article with the one and only Jason England. The article not only gives a professional insight on magic, but also answers YOUR questions!
This past month, forum member Cliff Bumgardner decided to write an article on Jason England, in hopes of getting some very intriguing questions answered.
Cliff teamed up with theory11, and we opened up to our forum and asked for fellow forum members to ask questions they'd like to see answered by Jason.
Cliff narrowed it down to 6 great questions by members in our community, and what came of the article is awesome.
Luckily, you don't have to purchase the latest issue of The Linking Ring to get your hands on this article - it's available for you to read, ponder, and soak up the knowledge of Mr. England by clicking HERE.