Making Magic Meaningful
Posted by Jonathan Bayme on 03 June 2013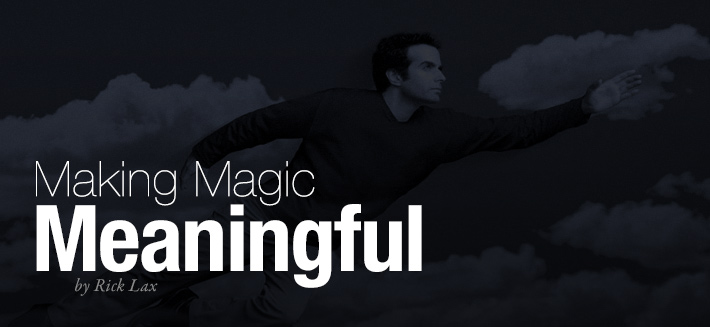 What's the difference between "doing some tricks" and giving a powerful performance? Meaning. A purpose. A message.
Penn & Teller perform magic to promote Libertarianism and Rationalism. Ricky Jay and Steve Cohen perform magic to retell our art form's amazing history. And David Copperfield performs to inspire people to follow their hopes and dreams.
What about you? Why do you perform magic?
Maybe you're shy and you use magic to make friends. Maybe you use magic to pick up women. Or maybe you just like the powerful feeling that comes with fooling friends and strangers. All of that is fine… but if you're looking to take your act to the next level, you have some soul-searching to do.
Imagine you have the most successful magic show in the world. Imagine you have millions of fans across the globe. And imagine these fans listen to everything you say. They truly value your thoughts and opinion.
What would you tell them?
In this scenario, you're already super-famous and powerful and loved—you've gotten those things out of the way. So what would you like to accomplish with your act?
Here's the thing: You don't have to wait until you're super-famous to start promoting that message; you can do it now. In fact, your meaningful message might be the thing that makes you famous! Your message might be the thing that distinguishes your act from all the others.
Las Vegas illusionist Jan Rouven uses his act to encourage people to work through the obstacles and setbacks in their lives. Just yesterday, two cancer survivors approached Rouven after his show to let him know one of his tricks had truly struck a chord with them.
I asked Rouven what advice he has for magicians who'd like infuse their acts with meaning, too. He said this: "Make sure the message relates to everyone somehow. Don't make it too specific, or else people won't identify."
Here's my advice: Figure out what message you'd like to promote. Make sure it's broad enough to include everybody. And then apply the message to just one trick. See how it works and go from there.
Rick Lax is a theory11 artist and creator of Vertigo, Detach, HighRise, ReCord, and Filter. Check out his work on theory11 and on The Wire, with his latest release Soul Paper.

Message From Rick: This is my fifth Monday Morning Magic column, and I'm planning to write more. If there are any topics you'd like me to write about, let me know in the comments section. Also, thanks to all of you who have been reposting these stories on Facebook. Much appreciated!
Previous Articles by Rick Lax: [Mastering Ten Tricks] [Creating New Magic] [Performing with Style] [How to Squash Stage Fright]