Mysterium: Old Dog, New Trick
Posted by Jonathan Bayme on 06 March 2013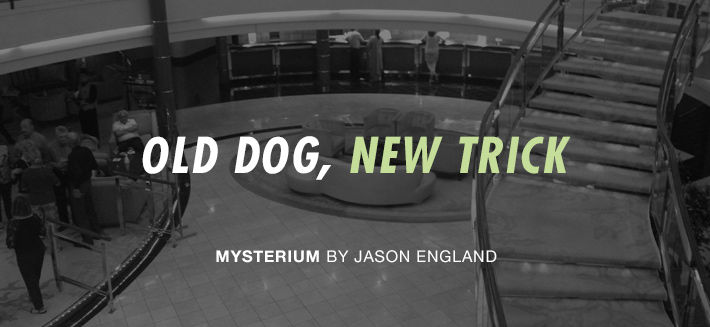 Editor's Note: This article is the seventh in a weekly series by Jason England: MYSTERIUM. Each article in this series will be posted on Wednesday at 11:00am EST – every post on a different subject. This week, Jason shares his experience from a recent cruise ship gig, where he performed close up shows for 10 days, while cruising around the tip of South America.
Old Dog, New Trick
As some of you know, I was recently on a cruise ship that sailed around the tip of South America. I was hired to perform close-up magic in a small theater on the ship for up to 22 guests at a time. This meant that I did two shows per day for about 10 of the 21 days I was there. When not performing in the theater, I had full guest status and was encouraged, but not required to mingle with the other guests and to do some informal performing if the situation was right and I felt comfortable doing so.
Although I'm known primarily for my abilities with a regular deck of cards and for my penchant for gambling-related routines and moves, I've never let go of my magic roots completely. I still enjoy a wide assortment of great close-up magic effects both with and without playing cards, even though I rarely perform with anything other than cards these days.
The Formal Close-up shows
In the formal shows that I did, my set included everything from classic card magic like Dai Vernon's Triumph to hard-core gambling routines involving second dealing, bottom and Greek dealing, center dealing and riffle stacking. I closed with a non-sleight-of-hand marketed item that I might write about in a future article. The shows were very well received. It probably didn't hurt that about 300 of the guests are die-hard bridge players and I was doing an effect where I deal myself a perfect bridge hand of all 13 Spades in sequence.
You would think the best of these formal, scripted shows would be my fondest performing memory of the entire trip. Nope – not even close. The cruise ship's management had a notice in the advertising for my shows that no one under the age of 18 was allowed to attend. This isn't my rule necessarily, but it's one the company has adopted to ensure the revenue guests (the ones that have paid huge sums to cruise around the world) aren't interrupted by small children. As it turns out, this wasn't a problem at any point on my trip because there were not any children onboard.
Except for two.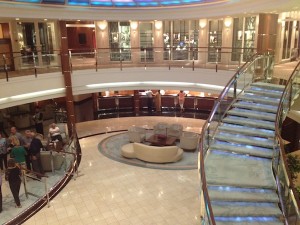 One of the other guest entertainers on the ship was Trent Dimas, an all-American gymnast and a member of the U.S. men's gymnastic team that competed in the 1992  Olympics in Barcelona. Trent brought home the gold medal for his flawless routine on the horizontal bar, which you can watch here.
Trent was on the ship to give a talk about his time in gymnastics and his experiences at the Olympics. He and his wife Lisa came to see my show and we briefly discussed the fact that his 9-year old daughter Capote and his 6-year old son Hudson couldn't attend. I told Trent that although I thought the subject matter of the formal show would play over the heads of such young children, I would be happy to do something just for them if he met me after dinner in the main lobby of the ship. We agreed to do so.
Before leaving on my trip, I had made sure to pack some non-card items that I knew would play well for small, informal performances. I also threw some purely "fun" items into my bag that I wasn't sure if I would have the opportunity to use, but wanted to have with me just in case. I'm glad I did, as two of these items in particular were just what I needed for Trent's children.
Just after 8:00 I walked downstairs and sat at a large wooden table. Capote and Hudson, with Dad Trent watching from behind, sat with wide eyes and huge smiles on their faces as I did several simple card tricks that involved performing a double-lift and allowing the children to rub the facedown card on the table before revealing that it had changed into another card. It's an easy trick, but a very effective one.
I then did several old, but excellent rubber band tricks that I've known for years that never fail to get gasps of amazement. At least one of these tricks comes straight out of Tarbell Vol. 1. You can find it on p. 134.
Finally, I "closed" the show with two great effects that magicians have been using for decades. First, I did a version of the Koornwinder Car for Hudson.
Even at 6, he understood that toy cars aren't supposed to magically stop when they pass selected playing cards. The look on his face when the car repeatedly stopped at his card was priceless.
For "Cappy" as she likes to be called, I reached into my pocket and came out with one of the greatest tricks that a close-up magician can ever do, especially for a young child: the bunnies.
Although I've been familiar with the trick my entire life and I've even performed it in the past, I don't think I've done the bunnies for anyone in over 15 years. It's not that I considered it a bad trick – far from it. It's a great trick. It's just that I've been concentrating on other things in that time.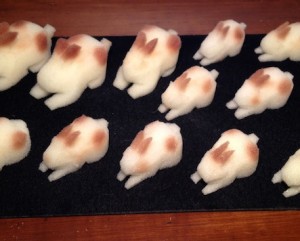 For Cappy, I brought out the bunnies and performed a very simple routine that ended with ten baby bunnies pouring out of her hand. As she beamed, I made a mental note to never again go years without performing the bunnies for someone. It's just too great of a moment to allow it to sit dormant.
As I performed for the kids, I was aware of a small gathering of adults in the lobby that had stopped to watch the show. Many of them had already seen my formal show in the theater, but were now seeing me do things that they hadn't seen before. As Cappy and Hudson were laughing in amazement at the appearance of the bunnies, I heard a loud round of applause. It was much too loud to be coming from just the small group that had assembled near me. I looked up, and found over 50 people had stopped and were watching the show from the ship's balcony above me. No one had seen a thing, but even if they had it wouldn't have mattered. This show was just for Cappy and Hudson. I knew it and the other guests knew it as well.
Trent couldn't thank me enough for taking a few minutes out of my evening for his children. I guess he thinks I did him a favor. It's actually the other way around. I'm the one that really benefited. I want to take this opportunity to thank Trent Dimas, for helping me relearn a great trick and reconnecting with that feeling of wonder that comes with experiencing a terrific magical moment – no matter which side of the table you're on.