Now Available: The Force by Mathieu Bich
Posted by Jonathan Bayme on 04 May 2012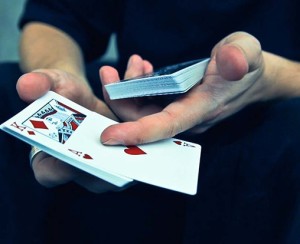 Now Available: The Force
A powerful, angle proof force created by Mathieu Bich. You hand the spectator a card, riffle the deck, and ask them to tell you when to stop. They proceed to insert the card into the deck - wherever they'd like.
The spectator's choice of where to put the card is completely their own. You cut to the precise location of their choice, and it's done. It's an incredibly deceptive move that requires almost no effort. Now Available.
Also check out the latest episode of Exposé! In this episode, Christen gives you an update on the latest in the magic world, Zach brings you the greatest from The Wire, and Rob continues his interview with Marco Tempest. Watch it here! ALSO don't forget to fill out an application here and send it to t11Sweepstakes@tannens.com for your chance to win a free pass to Tannen's Magic Camp!