Performing with Style
Posted by Jonathan Bayme on 13 May 2013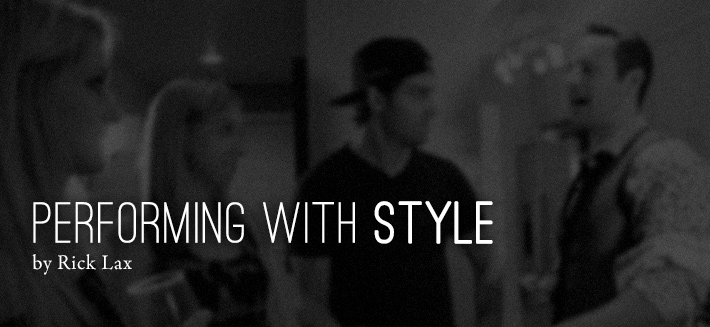 David Blaine is mysterious. Steve Cohen is classy. Juan Tamariz is crazy. Mac King's goofy. Penn & Teller are clever. And Copperfield's suave.
Seems like all the great magicians have unique performance styles. So how do you develop a style of your own? Start with the cliché: Be yourself.
I don't think Mac King sat down and said to himself, "When I go on stage, I'm going to be goofy"; I think Mac is a genuinely goofy guy. And Tamariz? He's naturally wacky. Now he might play up his wackiness — but he begins from an authentic place.
And then Teller. On stage, he's honest, sympathetic, vulnerable, childlike and dark. How'd he get there? In his own words: "Very often, taking something away helps people like me develop a style. I dropped speech. By dropping that, I found a lot about what connects me to an audience."
Don't worry about adding to yourself. Worry about bringing forward the qualities you already possess.
"For me," Teller continued, "style is just taste become visible. I like stark and simple. I like instrumental solos and chamber music more than I like orchestras. I like 'Psycho' better than 'Star Wars.' So what I do (and what Penn and I do) doesn't come from a love of scenery, or a love of light and sound overwhelming the spectator. What we like is ideas, funny and dark and curious and honest."
Now, if you struggle with introspection and don't know who you are, here are two tricks you can use to bring out your true character:
1) Do a couple tricks for your friends and family. Ask them what one thing they like about your performance. Next time, bring that one thing to the forefront.
2) Study the magicians you admire—the actors and musicians you admire, too. Ask yourself what, specifically, you admire about them. Why you relate to them. Use that as a jumping point.
"Create your own visual style. Let it be unique for yourself yet identifiable for others." - Orson Welles
If you do all that, before long, you'll have a style of your own. And before long, people might be imitating you.
Rick Lax is a theory11 artist and creator of Vertigo, Detach, HighRise, ReCord, and Filter. Check out his work on theory11 and on The Wire, with his latest release Soul Paper this past week.