Podcast with Rick Lax on Vertigo
Posted by Jonathan Bayme on 17 October 2011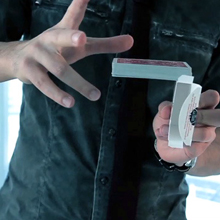 Tonight, we recorded a podcast with Rick Lax, the man behind the breakthrough new effect Vertigo.
Vertigo is an effect in which an empty card box - and the full deck itself - remains suspended in space, without the use of strings, wires, or magnets.
In tonight's podcast, theory11 CEO Jonathan Bayme and Rick discuss his history in magic, his love of Copperfield VHS tapes, common questions about Vertigo, and what is coming soon from Rick Lax at theory11.
Listen to the 15 minute podcast HERE.