Sentinel Canvas Art + Uncut Sheets
Posted by Jonathan Bayme on 22 April 2011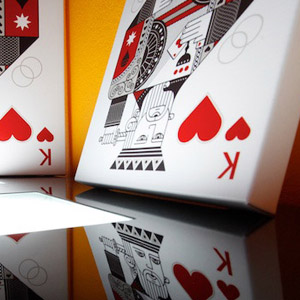 In simplest form, playing cards are functional art. We work with the best designers in the world to bring you the most captivating designs. And tonight, we offer those same designs in two new formats.
Now available are TWO brand new Uncut Sheets to add to your wall; DeckONE v2, and the new Bee Stingers [red].
But that's not all - we took the words "playing card art" literally - and pushed it to a whole new level.
They were featured in the Minnesota Gallery of Art, and now they can be featured in your living room.
Premium, canvas art of the Sentinel Ace of Spades and King of Hearts. Ready to be mounted on your wall in less than 60 seconds. Check out all the info, photos and details HERE.