Steve Cohen On Tour
Posted by Jonathan Bayme on 13 September 2010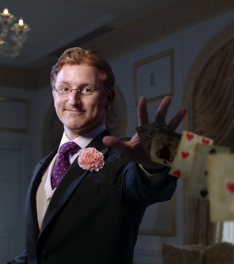 Later this month, a close friend of theory11 will be leaving home and traveling out west. Steve Cohen has performed for the past decade at the Waldorf Astoria here in New York City. His show is intimate, unique, and critically acclaimed. Steve is a phenomenal performer who was featured recently in the New York Times and on David Letterman.
Usually, the only place to see Steve perform is at the Waldorf Astoria, where his show consistently sells out. This month, however, you can see him in Boston on September 17th at the Fairmont Copley Plaza and in Los Angeles on September 24th and 25th at the Beverly Wilshire. I cannot recommend seeing his performance more, so if you are in Boston or Los Angeles, click here for more information and tickets.
Steve will be returning to NYC shortly thereafter, at which time you can catch his show at the Waldorf in Manhattan.