The Insider - Hand It to You
Posted by Jonathan Bayme on 29 April 2011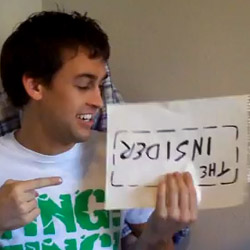 Due to illness, and lack of a voice, Zach Mueller was unable to host this week's episode of The Insider. Therefore, we were in desperate need for a replacement. In walked Blake Vogt, creator of REF4M and the newest member of the David Copperfield creative team.
Within this 17th episode, Blake talks about his brand new effect (released just a few moments ago!) - and makes fun of Calen Morelli as much as humanly possible. Watch the full episode now and see all previous episodes in our Insider Vault.
Blake Vogt moved to Las Vegas just two weeks ago to work on the creative team for David Copperfield. Blake was hand-picked alongside his close friend Calen Morelli for their shared, remarkable ability to think outside the box and create incredible magic.