theory11 & Bicycle - A Strategic Partnership
Posted by Jonathan Bayme on 15 April 2011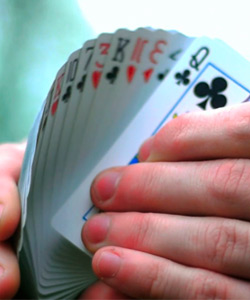 I grew up with a deck of cards in my hands. Short of an old t-shirt from high school that I continue to wear, and aside from my friends and family, it's the one constant in my life from the time I was 6 years old to today. That experience is shared by many of you reading this.
The United States Playing Card Company has been around since 1867. That adds up to 144 years today. In its first 50 years, hundreds of new back designs were created. This is a company with creativity at its roots - innovating at record pace not only in design, but also in quality. They have been and continue to be the best.
From the beginning, our goal at theory11 has been to respect tradition while moving forward into the future - innovating, creating, evolving, advancing. I'm proud of our team for staying true to that promise, working around the clock to push the envelope. Whether it's with magic, cardistry, gambling moves, playing cards, or Shake Weights, we work hard - and we have a great time doing it.
With that said, I'm excited to announce a strategic alliance today with the United States Playing Card Company - makers of Bicycle, Bee, Tally-Ho, Aviator, Maverick, Fournier, and more. Details of the announcement can be found below, and you can see the first fruits of our efforts right now on the Bicycle YouTube channel (featuring Daniel Madison, Michael Herp, Andrei Jikh, and cinematography by Homer Liwag). There will be much more to come.
- - - - - - - - - - - - - - - - - - - - - - - - - - - - - - - - - - - - - - - - - - -
theory11 is pleased to announce our partnership with The United States Playing Card Company (USPC), makers of Bicycle® Playing Cards, to evolve the company's playing card product line to appeal to a new generation of consumers. Under this strategic alliance, we will work with USPC to create a line of playing cards as well as online content.
The goal of this strategic alliance is to combine theory11's creativity with USPC's unrivaled distribution power. Accordingly, under this alliance, we will work together to innovate in the areas of web development, playing card design, marketing, and brand enhancement.
We are extremely excited to work with USPC to propel our creative output into the hands of new playing card enthusiasts around the world. In order to remain relevant in today's world, it's critical for us to continually evolve the playing card product line, and we believe that this strategic alliance will do just that.
----------
About theory11: theory11 is internationally known as the most respected destination for magic training online. Composed of a team of the most influential minds in the conjuring arts, theory11 produces and publishes instructional magic trick videos and designs high-end, premium playing cards. Founded in 2007, theory11 has quickly risen to the top of the industry, showcasing its creativity, passion, and expertise in the field of magic, cardistry, and playing card design. For more information, visit http://www.theory11.com.
About The United States Playing Card Company: The United States Playing Card Company is the leader in the production and distribution of premier brands of playing cards, including BEE®, Bicycle®, AVIATOR®, HOYLE®, KEM® and CONGRESS® playing cards. Bicycle® has been the best selling playing card brand in the world for more than 100 years. Founded in 1867, the company manufactures, markets and distributes playing cards, children's card games, collectible tins, puzzles and card accessories and is part of the Branded Consumables segment of Jarden Corporation (JAH). BEE®, Bicycle® ®, AVIATOR®, HOYLE®, KEM® and CONGRESS® are registered trademarks of The United States Playing Card Company. For more information, visit http://www.bicyclecards.com.