Top Card Cover Pass - Jason England
Posted by Jonathan Bayme on 10 June 2011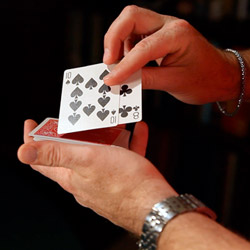 Jason England is no stranger to difficult moves. This is the guy who executes Greek Deals in his sleep. He can perform a Center Deal. From the center of the earth. Okay, I might be exaggerating.
The man is talented. His expertise and skills are hard to beat.
Tonight we present a fresh, new download on the Top Card Cover Pass. In 33 minutes of training, Jason covers the technique, the history, and the nuances that make it look so, so good.
This new video presents you with the unique opportunity to learn the move properly from someone who is more than qualified to write a novel about it. Learn it right the first time, and improve your overall skill along the way. Watch the preview and learn it now.