theory11 mailbox - JJ Abrams
Posted by Jonathan Bayme on 18 November 2010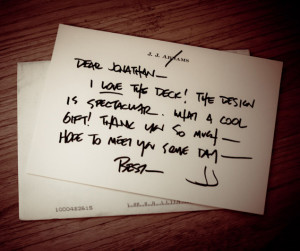 I hate getting mail. Unless it's my birthday, or some other holiday where good stuff gets delivered daily. Other than that, all I usually get is junk. theory11 is an internet based machine, and almost all of our correspondence is digital.
Today was different. Today, I got the mail and as I glanced at the contents of our mailbox, I skimmed the sender's names: Sports Illustrated (junk... it wasn't the swimsuit issue), random, random, JJ Abrams, random. Wait... what?! I did a double take. I slowly, methodically opened the envelope delicately as to not damage its contents.
What was inside? Check out the image (in reference to our Sentinel Playing Cards). This just made my year.