How to Squash Stage Fright
Posted by Jonathan Bayme on 06 May 2013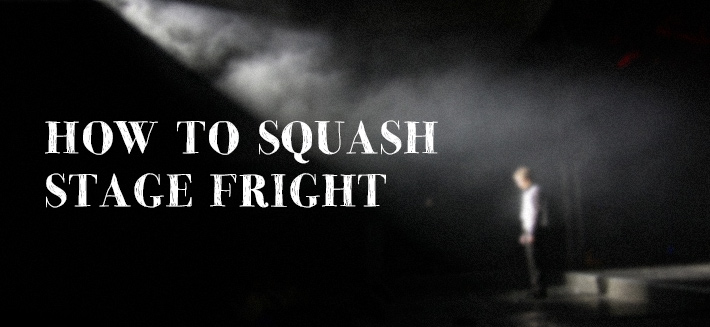 Back in high school I was serious about playing the piano. I practiced every day and I took on extra-difficult pieces like Chopin's "Fantasie-Impromptu" and Jack Fina's "Bumble Boogie."
I performed Gershwin's "Rhapsody in Blue" for the big Senior Concerto concert. All my classmates and family showed up to hear me. I was playing by memory, and ten minutes into the piece…my mind went totally blank. I had to stop the show, stop the band, apologize, walk off stage, get my sheet music, walk back on, and finish. I was so embarrassed. Just crushed.
Most performers—myself definitely included—get nervous from time to time. And realizing that everybody gets stage fright is the first step to moving past it.
The second step is messing up. Just as it's okay to be nervous, it's okay to mess up, too. When I perform a trick for the first time, I just assume I'll mess it up. I look at my first five performances as disasters through which I have to wade. If one of those performances hits, well, it's a bonus.
I don't do these first five performances for just anyone; I do them for trusted friends and fellow magicians—people in front of whom I feel comfortable messing up.
David Copperfield recommends beating stage fright by growing your audience little by little. Start small and work your way up.
"Begin with small groups," he advises. "Many performances for many small groups, and then you work up gradually."
If you follow Copperfield's tip, the third step will come automatically: Let confidence come to you. It doesn't happen overnight; but it does happen inevitably. When you perform a trick 100 times, you can't help but grow confident. Doesn't matter if you're performing in front of a TV camera or in front of a 500-person audience. Eventually you'll get used to it; eventually, you'll relax a little.
Want to squash stage right? Then go perform. Right now.
The 1st time will be scary, the 10th will be stressful, the 20th will be okay, the 50th will be smooth, and the 100th will be amazing.
Rick Lax is a theory11 artist and creator of Vertigo, Detach, HighRise, ReCord, and Filter. Check out his work on theory11 and on The Wire, with his latest release Soul Paper this morning.