I'll bite.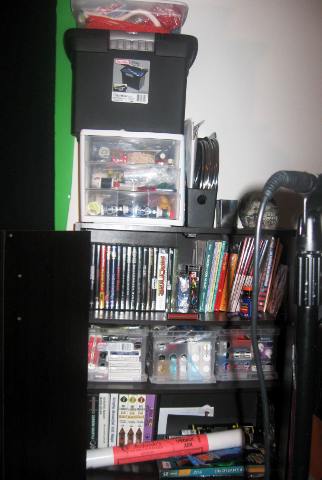 Sorry about the microphone in the shot. Some close-up shots, too.
Above the shelf
- Ropes, rubber bands and balloons in the top container. Silks in the big black "Officeware" portable filing cabinet. White Tupperware drawer with all my "small" stuff. Linking rings. Demon box. Glow in the dark skull. Skulls are cool.
The first shelf
DVDs. Whatever books aren't on my nightstand or next to the exercise bike. "Silken Sorcery" by Jean Hugard far to the right.
Middle shelf
. Money envelope. Cards. The crates to the left and right are collecting dust.
Bottom Shelf
. VHS tapes. Odds and ends. One book which is too tall for the top shelf.
I figured to add at the last minute:
Miscellaneous items
. My traveling bags (I made the ugly one myself!). More books and props.
Magic wands, Cups & Balls
& another handmade bag.
This is all a hobby to me, but I very much enjoy having a little bit of everything around.